League of Quiet Skies Voters
And then this happened - some wonderful civic activism, pure democracy!
Learn more at the League website.
The League's amazing April 2019 Town Hall was a spectacular success! Read all about it in local media on the B-Town Blog. Video stream of the event here.
Follow and join the League on Facebook.
Below: the initial launch press release:
FEBRUARY 26, 2019 - FOR IMMEDIATE RELEASE
Citizen Groups Launch "League of Quiet Skies Voters"
Dates for Town Hall and Candidate Forums Announced
SEA-TAC AIRPORT, SEATAC, WA – Citizen groups and activists from Sea-Tac Airport neighbor communities, including Quiet Skies Puget Sound, Burien's Quiet Skies Coalition, the Federal Way Air Noise Alliance, and The Briefing Project, have formed the "League of Quiet Skies Voters" to assure that impacts from recent and proposed airport expansion on human health and the environment are a focal point for the 2019 election cycle. The announcement was made during today's Port of Seattle Commission Meeting.
According to Quiet Skies Puget Sound founder Sheila Brush, "The Port of Seattle and airport added 97,000 annual flights since 2014, and want another 80,000 flights. This growth is inconsistent with the avalanche of new science – particularly including the World Health Organization's new 2018 Environmental Noise Guidelines – which requires immediate action by policymakers to reduce aircraft overflight noise. The science shows that noise, and particularly nighttime aircraft noise, causes increases in high blood pressure, strokes and heart attacks, and learning environment impairments." Larry Cripe, President of Quiet Skies Coalition, said, "We see a real opportunity with candidate forums for current Port Commissioners, and their challengers, to listen to voters, answer questions, and explain their records and their positions with concrete details, proposed actions, and commitments. And the over 200,000 residents and 100,000 voters in our six airport neighbor communities can decide."
Town Hall and two Candidate Forum Dates Announced
The League of Quiet Skies Voters will sponsor a Town Hall on April 25, 2019, at the Highline Performing Arts Center in Burien. In addition to guest speakers, all current Port Commissioners will be invited to respond to community questions. "The Town Hall is educational," said Steve Edmiston, creator of The Briefing Project. "The purpose is to maximize voter education on airport expansion, the health and environmental risks, make sure there is fact and science-based information about the issues, hear from elected officials about their ideas and plans, and create an opportunity for community questions and answers."
The League will also sponsor two candidate forums for Port and city council candidates.
In advance of the August 6, 2019, primary:
June 26, 2019 – Des Moines
In advance of general election:
September 19, 2019 – Burien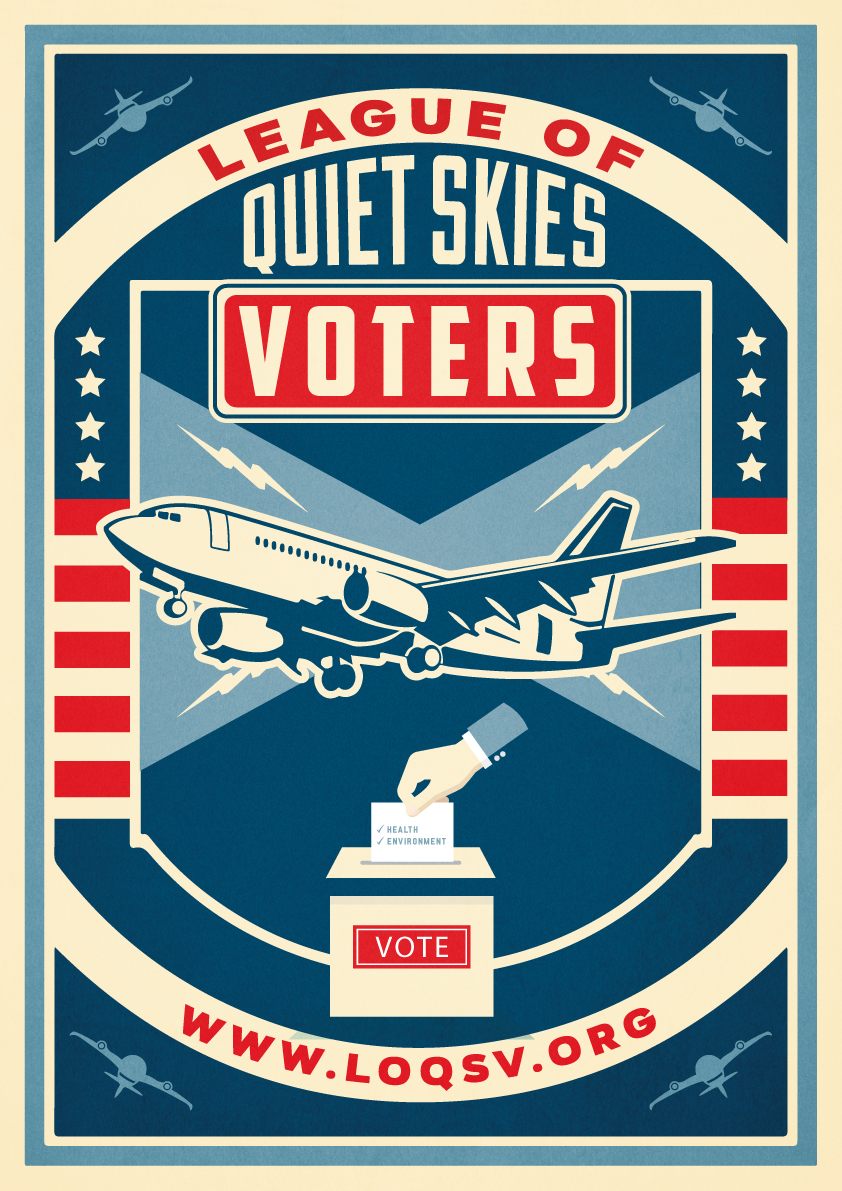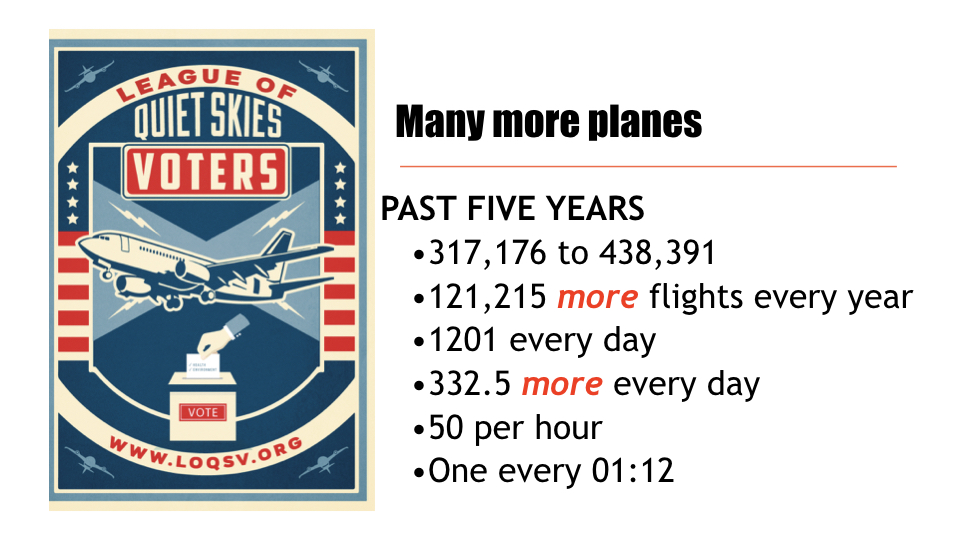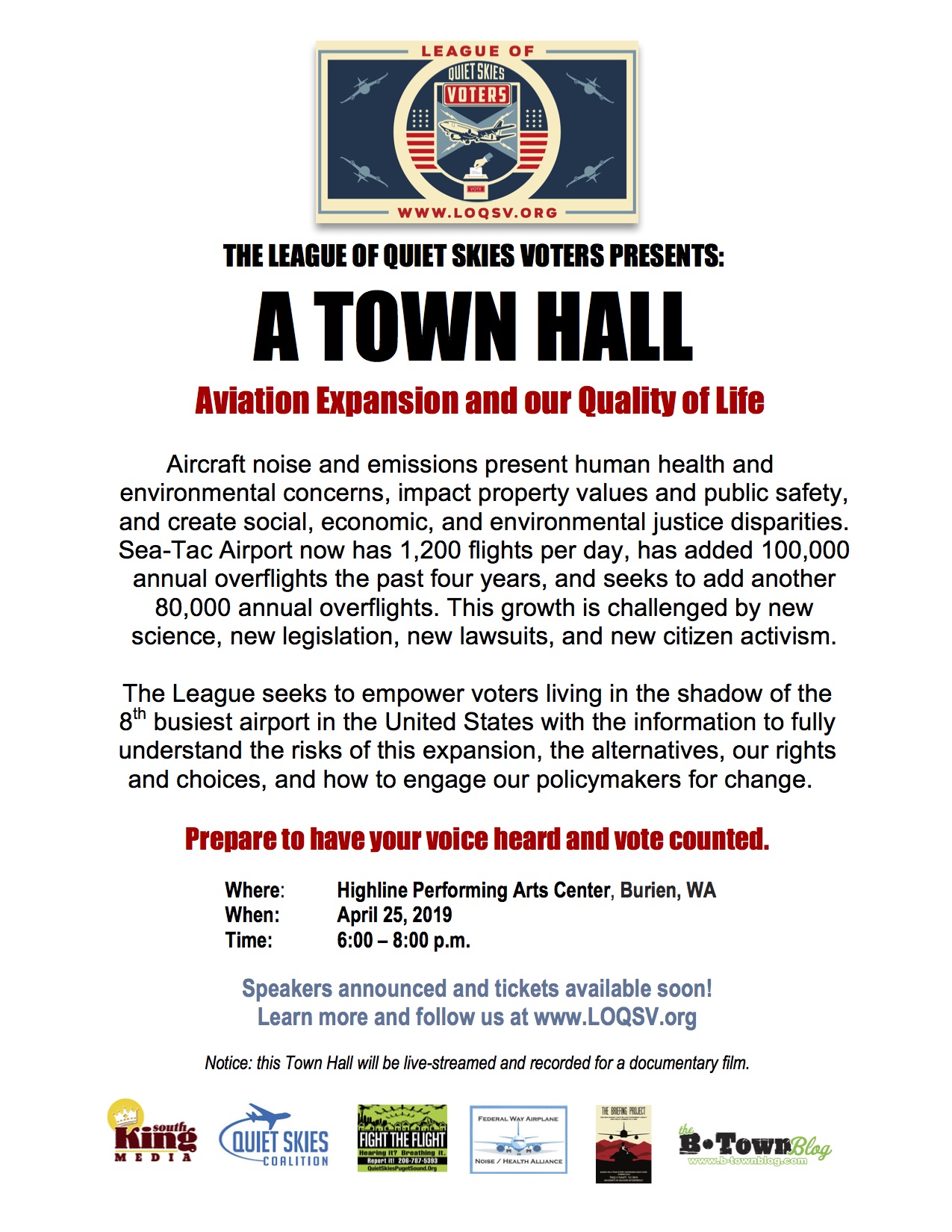 SAVE THE DATE
LOQSV Town Hall April 25, 2019. A major community event!